Carnival of the Recipes
What a week...what a week - I've been more discombobulated than usual lately, and a four-day work week doesn't help matters much. As a result, I hope you don't mind if I declare this Carnival a "topsy turvy" one and serve dessert first:
Sweet Stuff
"A rose by any other name would smell just as sweet..." And
Frocken Fool
would taste just as good if you called it something else, I'm sure. That name is just so much fun to say, though! Follow
Triticale
's advice and save this recipe until you can get blueberries in season; canned or frozen just wouldn't do this justice.
There are few things I like better than chocolate.
Carrot cake with cream cheese frosting
is one of them. Just looking at
Pamibe's
classic recipe makes me want to wax all
poetical
or
Proustian
or
something.
Easy as pie and as yummy as a creamsicle, that's what Donna at
Pajama Pundits
's
Frozen Orange Dessert is
...
Oddybobo's
Chianti-Poached Pears
are an enigma wrapped in a conundrum: How could something so elegant be so simple? How could something so luscious actually be good for you? (It's fruit, darnit! And red wine! It's all about the antioxidants.) How can something made from such humble ingredients seem such a "rich people's" dessert?
Ohmygawd!
Ogre's
"killing two birds with one stone" post on
cat litter cake
is too funny! This is an awesome idea for a kid's party!
Caltech Girl's
recipe for a luscious
Strawberries and Cream Cake
makes me wish that strawberry season here in New England came a little bit sooner...
Gullyborg
provides us with an amazing, efficient chocolate delivery system:
Death by Chocolate cookies!
Mary Beth's
Fudge Pie
recently pinch hit as a birthday cake...why not
stop by
to wish her daughter Emma a Happy ninth! Also - check out the picture of her son's last birthday cake. It's certainly one of a kind.
Countertop Chronicles
offers us a recipe for
flan.
A mi me gusta mucho el flan. ¡Gracias, Countertop!
Drinks and Appetizers
Who doesn't love a good BLT? Dbie over at
My Side of the Puddle
has a recipe for a simple yet sinful
BLT dip.
I think I'm going to have to make this for my next party.
This first of
Feisty Christina's
recipes is for a classic Southern Cooler with a twist:
Almond Tea.
What an unusual take on the traditional lemonade/iced tea combination!
Martin at
Ego's
Hula-Hula Beachfloat
screams little paper parasols and tiki head drink glasses. Wouldn't an impromptu backyard luau be a great start to the weekend?
Soups and Salads and Sandwiches
Owlish
tinkered with a recipe from one of those little recipe books you find in the impulse aisle at the grocery store. His resulting
Tex-Mex Soup
sounds like a wonderful thing to have waiting for you in the crockpot on a raw April evening.
Three cheers for crowd-pleasing versatility! Punctilious at
Blogoram
has a recipe for a marinated
black bean salad
that can also be served as a dip...a veggie dish that carnivores will love...
For hangover relief, I've always counted on a chocolate fried-cake from Dunkin' Donuts and a bottle of Orange Crush. Rory at
What Not To Do in Asia
has
another remedy.
(Warning - absolutely NOT for the faint of heart. Beautiful images, though. I think I'm going to nominate him for the
Diane Arbus
award for food photography.)
Sometimes you have to ask yourself: Do I really need to make [insert fussy gourmet recipe here] or will I be satisfied with a tuna sandwich?
Booklore's
version
- elegant in its simplicity, but with a kick from a couple surprise ingredients - makes that question a no-brainer for me.
Entrees and Side Dishes
Sissy at
Sisu
has a grand ol' time tormenting the kitties while preparing a delicious family classic:
Mary's Secret Baked Haddock.
Though it sounds like a rather complex combination of flavors,
Aussie Wife
assures us that her
Chili Beef
recipe is relatively simple to prepare. Simple and exotic! How wonderful!
I love paella, but have always been intimidated out of trying to make it. Just seems so complicated. Dave at the
Glittering Eye
assures us that though
this showpiece of a meal
does have a lot of ingredients, it's easy to make. He also offers a bit of food for thought in his post. Very inspiring.
Rory
has another beautifully-documented recipe - this time for
Pork Diane With Chili Salad.
Despite the rather conspicuous absence of kimchi
(What? No kimchi!? Bring it on...the longer you age it the better; puts hair on the chest.)
, this has me getting ready to head out the door to the local Korean market for ingredients.
Feisty Christina says that back in her home state of Luzianne, there are as many ways to make shrimp jambalaya as there are cooks.
Hers is the easy way.
Sounds good to me!
Boy do I love ribs... and
Bo the Nook
really sets us up this week, too, with a
Whole Lotta Ribs.
He maintains that the secret to success in an undertaking as massive as his is Planning - and he takes us through his process step-by-step. His
second recipe,
provided strictly for our edification,
(meow? rowr?...me-OW!)
has already got me thinking of
substitutions.
My mouth's watering right now as I peruse
Techno Gypsy's
Spicy Thai-Like Noodles.
This seems pretty dinner-like, but I'm thinking breakfast-like, as, well, it's breakfast time here.
ALa over at
Blonde Sagacity
does her part to assure the survival of a savory British institution with her recipe for
UK-Style Shepherd's Pie.
Cindy at
Notes in the Key of Life
's
Incredibly Delicious Fiesta Chicken
looks pretty simple to prepare and so, so rich. Yum.
Nutritious, delicious, easy-to-prepare...that's how Dave at
Third World County
bills his
Stovetop Taco Pie.
It's a real stick-to-your-ribs kind of entree. As an appetizer, I'm willing to bet it would blow those foofy gourmet store versions so popular here
out of the water.
When I was a kid, one of my favorite "Chinese" dishes was sweet-and-sour anything. I think it had to be because of the nuclear-red goopy sauce and the maraschino cherries. As an adult, I figure that those original selling points might actually be good reasons to avoid the stuff. ShawnLea at
Everything and Nothing
has a recipe for
Sweet and Sour Chicken
that looks light and healthy enough to satisfy the grownup side, yet yummy and sweet enough to treat the kid side...bravo on that balancing act!
Professor Bainbridge
over at his food and wine site sends us a recipe for
Cocoa and Paprika-Rubbed Tenderloin
. He's also included a wine suggestion and side dishes to round out Saturday dinner. If I ever get up the nerve to pop The Question to The Guy, this is what I'm serving for dinner.
You know those recipe cards that show up in the mail periodically - I have tons of them just sitting around, but have never tried any of them out. A good spring cleaning idea might be to do what Ted at
Rocket Jones
did - weed through them. This
herbed rice
was one of the survivors - and thank heavens for that.
Dave at
AZ Perspective and Junk
offers us counsel on how to prepare a
simple pot of pinto beans.
This isn't as simple a job as you'd think (as all the scorched-bottom pots in my pantry will attest), and I for one am thankful for the instructions...
Laurence at
This Blog Is Full Of Crap
likes corn a lot. I was neutral on the subject until I took a look at his recipe for
roasted garlic corn on the cob
- a summertime favorite with a special twist. (And possibly a cat toy if you're not careful.)
Breakfast
It's the most important meal of the day, so why shortchange yourself? Kris at
Anywhere But Here
has two delicious additions for your fast-breaking repertoires:
Morning Glory Muffins
(ooh! Carrot Cake for breakfast!)
and
Easy Cheese Blintzes
.
***
After all this poetry in food, I thought my submission might be a spicy food poem as it
is
still
National Poetry Month,
after all:
Peaches

A mouthful of language to swallow:
stretches of beach, sweet clinches,
breaches in walls, bleached branches;
britches hauled over haunches;
hunches leeches, wrenched teachers.
What English can do: ransack
the warmth that chuckles beneath
fuzzed surfaces, smooth velvet
richness, splashy juices.
I beseech you, peach,
clench me into the sweetness
of your reaches.

-Peter Davison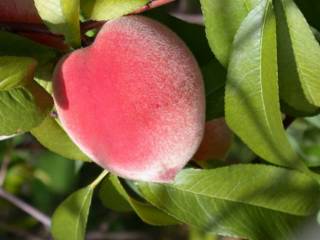 Yum.
***
I hope you enjoyed embarking on this week's tour of the Fine Cuisines of the Blogosphere half as much as I enjoyed hosting. If you get the chance to do so, please go check out the chefs' sites. They're some really interesting folks whose blogs I'm looking forward to getting to know better, myself.
Next week,
Caltech Girl
hosts...until then, take care of yourselves and have a great week!