The Price of Gentrification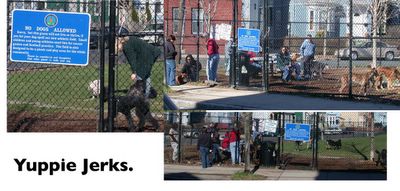 I've largely become inured to the assininity and entitlement that comes with the gentrifiers of my neighborhood. Sometimes things can get to you, though. Clearly this got my roving photographer's goat. The park is on Summer Street between Vinal and Putnam (near Union Square) in Somerville. In case you can't read the sign, it clearly states that the park is for picnics/play and that bringing dogs there is expressly forbidden. Forbidden for all but the Happy Few, I guess. Anyway, here's what Hal had to say about the scene:
"I was amazed to see these folks using the park as a massive dog
run!!! I think I saw about 15 dogs. The sign reads that "this space
is intended for picnic use" as well..now I know how kids get worms!"